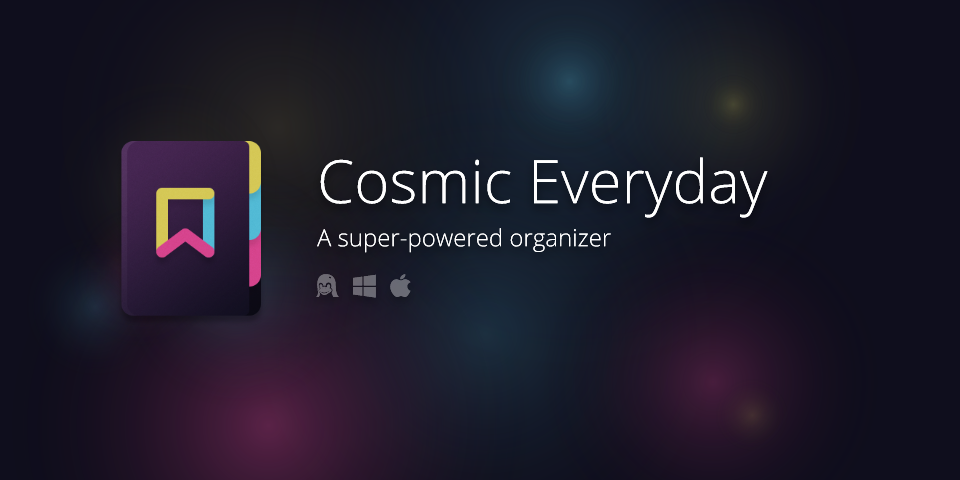 Cosmic Everyday
v0.6.1 — Smashing Linux bugs + Import/Export feature
---
Improvements
Some error messages became more human-friendly, and notifications became more talkative.
New features
Importing and exporting your data is now available. Search for export tools in the Settings panel.
These allow you to pack your database in a file and later load it into another Cosmic Everyday copy. You can safely reimport the database to update your data – it won't generate duplicates or lose new changes.
Warning: this is an experimental feature and it must not be used with other people's databases. The developer is not liable for any possible damage to your data.
Now you can tell Cosmic Everyday to launch minimised. This option can be found in the Settings panel.
Bug Fixes
Kanbans: Tasks in new cards can be added again.
Kanbans: Imported wallpapers now work correctly on Linux/Mac.
Painter: Saved sketch now does load on Linux/Mac.
Files
Cosmic Everyday for Linux x64 (old)
96 MB
Version 0.6.1
Sep 22, 2017
Cosmic Everyday for Linux x86 (old)
101 MB
Version 0.6.1
Sep 22, 2017
Cosmic Everyday for Mac x64 (old)
92 MB
Version 0.6.1
Sep 22, 2017
Cosmic Everyday for Windows x64 (old)
96 MB
Version 0.6.1
Sep 22, 2017
Cosmic Everyday for Windows x86 (old)
91 MB
Version 0.6.1
Sep 22, 2017